First and foremost, Ai Weiwei: Yours Truly is a film about people—starting with the brave individuals who inspired an outpouring of support from visitors to the exhibition on Alcatraz Island, and the artist whose vision made it possible. Several of these former prisoners of conscience are highlighted in the film, offering viewers insights into the beliefs that sustain them and the inordinate challenges they have faced for upholding the value of human rights.
In candid and moving interviews, John Kiriakou (U.S.), Ahmed Maher (Egypt), the family of Ebrahim Sharif Al Sayed (Bahrain), and others share their stories and reflect on the postcards from Yours Truly as a source of strength, while visitors to the exhibition on Alcatraz discuss the feelings of empathy and possibility that arose as they penned postcards to prisoners whose stories they had only just discovered.
Ai Weiwei
Ai Weiwei is among the world's most celebrated contemporary artists and an outspoken critic of injustice, both in China and abroad. An ardent human rights activist, Ai was arrested by Chinese authorities on April 3, 2011, and held incommunicado for eighty-one days. For over four years following his release, he was prohibited from traveling abroad and subjected to ongoing government surveillance. Having relocated to Berlin, Ai continues to extend his practice across multiple disciplines, using exhibitions and social media to communicate with a global public. His latest project, the celebrated documentary film Human Flow, addresses the plight of refugees worldwide.
The family of Ebrahim Sharif Al Sayed
Sharif is a Bahraini politician, businessman, and former Secretary-General of the now-disbanded National Democratic Action Society, a secular, moderate, and peaceful political opposition group advocating for governmental reform. After giving a speech in which he discussed these issues, Sharif was charged with "incitement to overthrow the regime" and imprisoned in Bahrain's Jaw Prison from March 2011 to June 2015. An appeals court upheld his sentence, despite determining that the evidence used against him was extracted through torture. Sharif's wife and children visited the exhibition on Alcatraz and sat for interviews about the personal impact of Sharif's incarceration and the inspiration they gained from Ai Weiwei's exhibition.
Ahmed Maher
Activist and civil engineer Ahmed Maher is a cofounder of Egypt's April 6 Youth Movement, which spearheaded the demonstrations that ultimately led to the overthrowing of President Mubarak's government in February 2011. In November 2013, Egypt adopted a new "Protest Law" designed to severely restrict freedom of assembly. Maher was among the first to be charged with breaching the law in a protest against it. On December 22, 2013, he was sentenced to three years in prison and fined fifty thousand Egyptian pounds. In 2011, Maher was nominated for a Nobel Peace Prize for his work toward democratic reform.
John Kiriakou
John Kiriakou is an associate fellow with the Washington, D.C. think tank Institute for Policy Studies and an acclaimed author and public speaker, writing and lecturing on topics that include the war on terror, surveillance, and the prison system. A former CIA officer, Kiriakou was imprisoned for revealing information about the U.S. intelligence community's use of torture. In 2007, Kiriakou appeared on ABC News, becoming the first CIA officer to confirm that the CIA had used waterboarding on detainees—a tactic he described as "torture." Kiriakou's interview revealed that this practice was official U.S. policy, approved at the highest levels of the government. As a result, Kiriakou was sentenced to 30 months in a state penitentiary.
Gao Ying
Born in 1933, Ai Weiwei's mother, Gao Ying, spent her youth working in the famed writer Lu Xun's literary work group. In 1955, she became a staff member at the China Writer's Association; she married Ai Weiwei's father, the famed poet Ai Qing, the following year. Just two years later, when her husband was persecuted for being a Rightist, she and her children, including then one-year old Ai Weiwei, were exiled to the Chinese hinterlands, where they were forced to live in deplorable conditions for the next twenty-one years. Here she speaks for the first time about the family's period in exile and its effect on Ai Weiwei during his formative years.
Cheryl Haines
Director Cheryl Haines is the founding executive director of the FOR-SITE Foundation and principal of Haines Gallery. She was the curator of @Large: Ai Weiwei on Alcatraz. For over thirty years, Haines has developed exhibitions and site-specific public programs that have exposed new audiences to contemporary art and advanced the discourse on art about place. Haines' dynamic curatorial stance presents challenging and provocative exhibitions by artists who explore cultural and environmental issues through a wide range of media, as well as public, site-specific commissions on a national scale.
Alexandra Munroe
Alexandra Munroe, Ph.D., is Samsung Senior Curator, Asian Art, and Senior Advisor, Global Arts, at the Solomon R. Guggenheim Museum and Foundation. A pioneering authority on modern and contemporary Asian art and transnational art studies, she has led the Guggenheim's Asian Art Initiative since its founding in 2006 while also working on the Guggenheim Abu Dhabi Museum Project and the Guggenheim UBS MAP Global Art Initiative. She convenes the museum's biannual Asian Art Council, a curatorial think tank, and heads The Robert H. N. Ho Family Foundation Chinese Art Initiative. As Senior Advisor, Global Arts, she helps to guide the foundation's intellectual and institutional agendas for expanding its purview to study, acquire, and exhibit art from beyond the Western world. MORE
Chelsea Manning
U.S. Army intelligence analyst Chelsea Manning delivered hundreds of thousands of classified documents that she found troubling to WikiLeaks, and in 2013 was sentenced to 35 years in prison for espionage and theft. President Barack Obama commuted her sentence and she was released from prison in 2017.
On March 8, 2019, Manning was held in contempt of court by a United States District Court judge for refusing to testify to a federal grand jury investigating WikiLeaks. Manning said she was objecting to the "secrecy of the grand jury process". Except for a brief period of release between May 9 and May 16, she continues to be held in the Alexandria City Jail until she agrees to testify.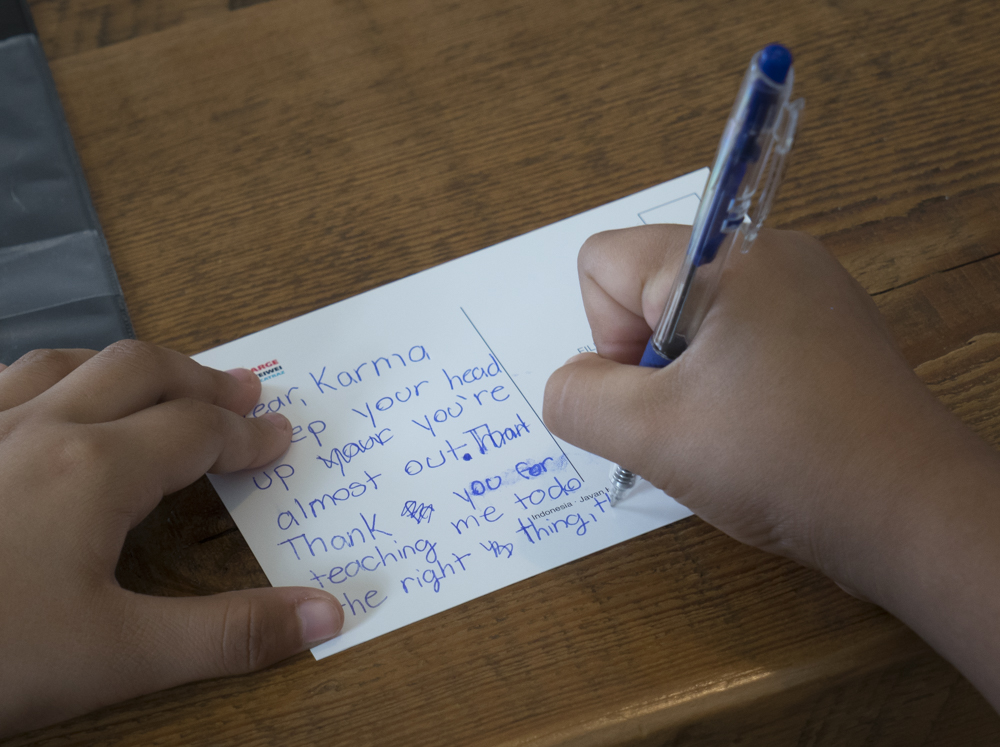 Postcard Project
In the spirit of human connection celebrated in Ai Weiwei: Yours Truly, attendees of the world premiere screening on April 14 were given the chance to write to prisoners of conscience. Below are brief bios for these individuals — for more information, visit the Amnesty International website.
Sentenced on charges of terrorism. Ahmad is ethnically Turkmen and is also a television journalist, program organizer, and translator for a radio and television station, reporting in Kurdish, Arabic and Turkmen. He was arrested in February 2000 and was detained without charge or trial for 11 years, during which time he was tortured and held in solitary confinement for long periods. He was later charged with an explosives-related crime allegedly committed in 2009, even though he had already been in the custody for nine years. In March 2013, he was sentenced to an additional 5 years in prison and still remains in prison in the Kurdistan Region of Iraq more than a year after having completed this sentence. According to Amnesty International, he appears now to be facing fabricated charges intended to justify retroactively his long detention without trial.



Mohammed Fahad Al-Qahtani
Saudi Arabia
Convicted of "breaking allegiance to and disobeying the ruler," "questioning the integrity of officials," "seeking to disrupt security and inciting disorder by calling for demonstrations," "disseminating false information to foreign groups," "violating Article 6 of the information technology law" and "forming an unlicensed organization." Al-Qahtani is an economics professor and a co-founder of the Saudi Civil and Political Rights Association (ACPRA), an organization focusing on the 1948 United Nations Universal Declaration of Human Rights and calling for an elected parliament and the creation of legal institutions to support transparency and accountability. ACPRA also calls for laws to protect minority rights and intends to document human rights violations. He has been imprisoned several times for supporting the establishment of a constitutional monarchy in Saudi Arabia. In March 2013, he was sentenced to ten years in prison and a ten-year travel ban.
In 2018, he was awarded the Right Livelihood Award together with other jailed Saudi Arabian activists Abdullah al-Hamid and Waleed Abulkhair, an international award to "honour and support those offering practical and exemplary answers to the most urgent challenges facing us today.



Azimjan Askarov
Kyrgyzstan
Convicted of "storage of ammunition," "accomplice to premeditated murder," and "accomplice in the killing of a law enforcement officer" following his arrest arrest on 15 June 2010. Askarov is an ethnic Uzbek and Director of Vozdukh (Air), an independent human rights NGO. During clashes between ethnic Kyrgyz and Uzbeks in southern Kyrgyzstan in 2010, he filmed and photographed the violence, killings and arson attacks on mostly ethnic Uzbek homes and other buildings in Bazar-Korgon. In 2011, the Czech human rights organization People in Need awarded him its Homo Homini Award and in 2012, the Committee to Protect Journalists honored him with the International Press Freedom Award.

In 2014, the U.S. Department of State conferred on Askarov the Human Rights Defender Award, an honor given to individuals or non-governmental organizations that have shown exceptional valor and leadership in advocating for the protection of human rights and democracy. The Kyrgyz government protested this decision and formally terminated a 1993 agreement on cooperation between the U.S. and Kyrgyzstan. In March 2019, Askarov was transferred to a new correctional facility which houses convicts who have been sentenced to life imprisonment.



Chelsea Manning
United States
Originally convicted of violations of the Espionage Act and other offenses. Manning was a United States Army soldier who released the largest set of classified documents ever leaked to the public. The material Manning released included videos of the July 12, 2007 Baghdad airstrike, and the 2009 Granai airstrike in Afghanistan; 250,000 U.S. diplomatic cables; and 500,000 Army reports that came to be known as the Iraq War logs and Afghan War logs. Much of the material was published by WikiLeaks or its media partners between April and November 2010. She was sentenced in August 2013 to 35 years confinement with the possibility of parole in eight years and was dishonorably discharged.
On January 17, 2017, President Obama commuted all but four months of Manning's remaining sentence and she was released May 17, 2017 after spending seven years in detention. In February 2019, Manning was subpoenaed to testify in a US government case against WikiLeaks and Julian Assange. She declined to testify and on March 8, 2019 was held in contempt of court and jailed, with the judge conditioning her release on her testifying or the grand jury concluding its work. On April 4, 2019, after 28 days in "administrative segregation" (solitary confinement), Chelsea was moved into general population.
Follow her on Twitter



Tran Thi Nga
Vietnam
Charged with "conducting anti-state propaganda" in July 2017 and sentenced to nine years in prison and five years under house arrest. Tran Thi Nga is a member of Vietnamese Women For Human Rights, a group that includes overseas Vietnamese wishing to lend support, training, and encouragement to those who stand up to defend human rights in Vietnam. She has also assisted those whose land has been confiscated by local authorities, and has demonstrated in support of democratic reform. She has been targeted a number of times because of her human rights work and in 2015 she was beaten by policemen for celebrating the release of another human rights defender from jail. The US advocacy group Human Rights Watch says Vietnam is in the midst of a crackdown on bloggers and activists, and has called on donors to put pressure on Vietnam over the issue. Amnesty International UK called for Thi Nga's conviction and sentence to be reversed, and added: "The government is destroying the lives of brave individuals and their families simply to intimidate others from raising their voices." On March 21, 2018, her partner was informed that Thi Nga was transferred to a remote prison over 1,000 kilometers from where she had been previously incarcerated, making it very difficult for her to receive visits from her family.



Anastasia Shevchenko
Russia
Charged with "repeated participation in the activities of an undesirable organization." Anastasia Shevchenko, a Coordinator with the Otkrytaya Rossiya (Open Russia) movement, was placed under house arrest on January 23, 2019, where she remains. If convicted, she could face up to six years in prison for her peaceful activism. The Open Russia political movement promotes democratic values and the rule of law in Russia. "The movement advocates a multi-party system of governance, a strong parliament, as well as a strong regionalized governance system. Open Russia also provides a platform for civically active citizens to connect and share ideas." Open Russia was designated as "undesirable" by Russia's Prosecutor General's Office in April 2017, marking the first time Russian authorities have banned a civil society group that was founded by Russians and operates only in Russia. Amnesty International has called the case against Shevchenko "extremely troubling," emphasising that, "the authorities [in Russia] are expanding their toolkit for imprisoning human rights defenders and activists."
Directed & Produced by Cheryl Haines
Co-Director & Editor: Gina Leibrecht
Producers: Cassandra Jabola, Christy McGill
Directors of Photography: Dana Smillie, Jan Stürmann
Creative Producers: David Spalding, Sharon Wood
Music by Wendy Blackstone